Major Features of Yatra Plugin
Yatra is Best WordPress travel booking plugin and it can be useful for travel agencies, trekking companies & tour operator and any kind of travel booking sites.
You are create unlimited tour for your travel agency. There is no bar for tour creation on this plugin.


Despite of activity and destination category you might need other custom attribute for you tour. Like height, altitude, temperature etc. So this option allows you to add custom attributes on tour item.

You might need FAQ for your tour item. So we build a tab for that and you can created unlimited FAQ items for a single tour.

Tour might have different attributes like activity, destinations and so on, we have added activity as one tour category for new tour item.

There is no bar for itinerary creation on tour. You can create unlimited itinerary for a single tour.


A tour might have different pricing like regular price and discounted price. This option allows you to add discounted price for a tour.


Tour/trip might have different destination options. So, we created destination as a independent category for tour item.


You can change label for frontend tabs and can sort your tab design from backend.




Yatra is well coded WordPress plugin and it's really fast. Interface of admin panel and frontend booking and checkout steps are really easy and clean.


Best WordPress Travel Booking Plugin
Yatra is best WordPress travel booking plugin because of it's flexibility & easy setup process and more customization option. You can simply customize it's design, add payment gateways easily, add any extra features via addons, override the templates from the theme very quickly.
Availability calendar is more awesome feature for yatra user. You can modify any pricing and other availability option from the availability calendar. You can even modify the pricing per date or any date ranges.
Support, Updates & Customizations
It's not only Best WordPress Travel Booking Plugin just because it has best features, it's best because of it's support, regular updates and regular feedback and updates from the users. We constantly improving the product as per your feedback. We have own plan but mostly we would like to solve the problem of yours on Travel Booking industry.
Yatra WordPress Travel Booking Plugin
You can create Trip/tour booking website with Yatra WordPress plugin. There will be limitless option to configure the tour packages and it's different types of pricing. You can set different date range for availability or modify the pricing as per the specific date via availability calendar option. With setup wizard, setup process is really easy.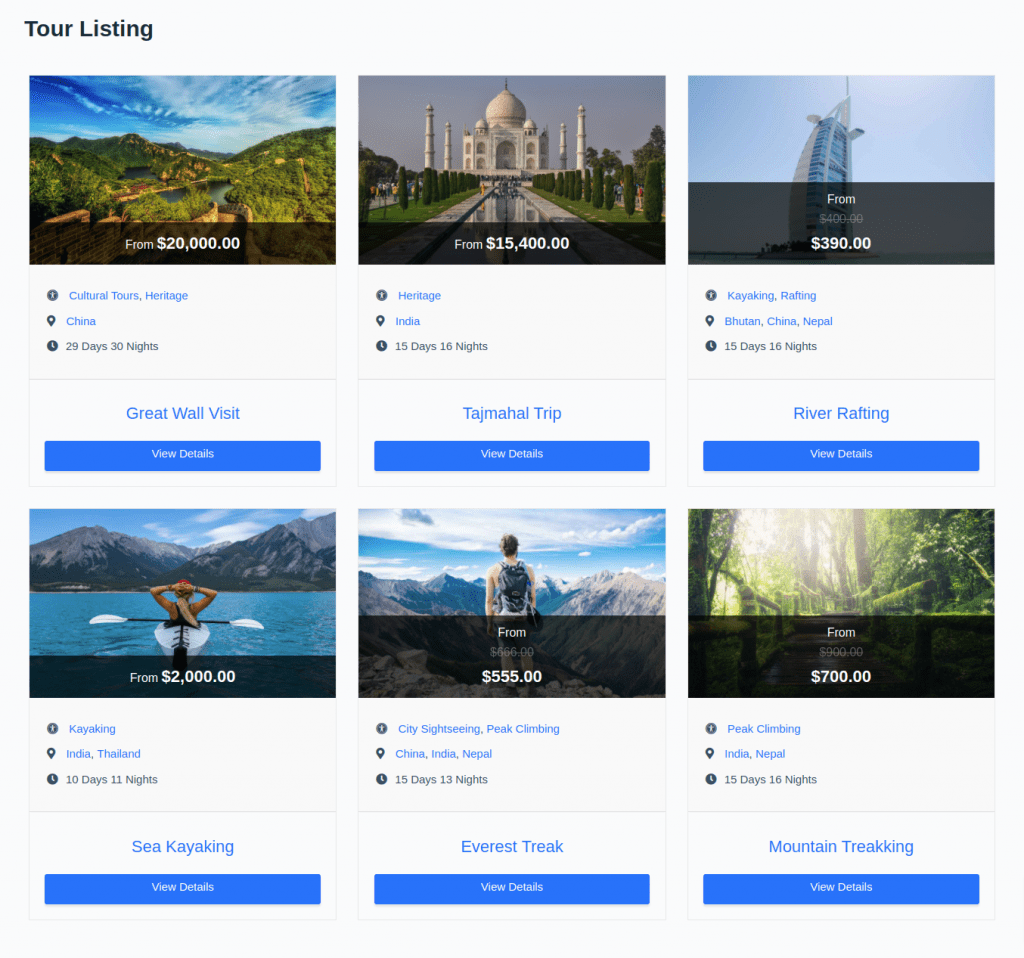 Frequently Asked Questions
Here are some of the frequently asked questions about Yatra WordPress plugins. If you have more questions please feel free to ask us.
Yes, Yatra WordPress plugin is free and always will be. If you want additional advanced feature you can buy our addon/extension but main plugin is always free.
Yes, you can use any of the modern, updated theme with Yatra plugin. You can work with any of the well developed theme with yatra but there might be some design conflict on some of the theme because we haven't tested on all themes.
If you found any bug you can email us at mantrabrain.com or directly post the query at our support forum or you can create issue on github
No. You do not need to buy anything to work with yatra plugin. But if you think you need additional more feature then you can buy our addon/extension to extend more feature on yatra plugin.
If you have any idea or need any feature , you can check our addon/extensions. But if that doesn't help you then , you can send us feature request from here . Our development team will check and if the feature is good and can be useful for many other yatra users then we will update that feature in upcoming possible version of yatra plugin.
Still do you have any questions? Feel free to contact us
Video Introduction
Video Introduction about Best WordPress Travel Booking Plugin – Yatra and some insights
What peoples say about Yatra
Yatra have 10+ five star rating on wordpress.org and we have receiving many appreciation email about the plugin.
It took me almost 5 months looking for a travel booking plugin, until a online blogger recommended the Yatra PLUGIN, only to find out that it has been the solution that ive been looking for. The Yatra team is always available to assist, and they always make sure that they give you the best solution and service. i highly recommend this plugin.
The best plugin among all the ones I've tried, simple, intuitive, customizable. Great online support, really all very kind and professional. (thank you Evan for support!)





I recommend this plugin because it is a very practical and easy-to-use tool, it also allows you to manage your customers in stages, and notifications to the client and you arrive through email.




Start With Best WordPress Travel Booking Plugin
Download & Install Best WordPress Travel Booking Plugin Yatra